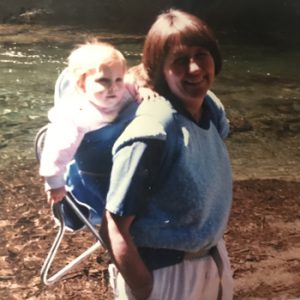 In 1987 my sister was 40 years old and having her first baby. She chose a home birth with a midwife. I questioned her choice, but Janice is a smart woman and had done the research to understand that the approach of hospitals and doctors adds unnecessary layers of procedures for protection (often their own from malpractice suits) that can often result in harm to a newborn. That's likely why the US is "the most dangerous developed country to give birth in" according to Newsweek in 2018*. Janice gave birth to her second healthy child at age 44, again at the home of her midwife.
Back in 1987, most of us put our trust without question in the promise of existing structures and heedlessly follow their protocols in an attempt to create lives that work within an established system. Unfortunately, even though our lives as a whole aren't working all that well, we still do. But it is 2020 and we're starting to break the spell of believing someone knows more than we do about how to create the world to which we want to belong. Our blind allegiance is faltering, and well it should. We're in a time of health, political, environmental, racial and financial crises. The structures we've relied on are crumbling, and no election or single leader can change that.
What will it take to break the spell of believing in an old way and imagine a world that works for all of life?
For years, I have been captivated by the Rumi quote, "Speak a new language so the world may be a new world." I've spoken about that as I've sensed that there are languages of the soul that can awaken us to new ways of seeing and being that open the way to the new world we trust is possible and want to co-create.