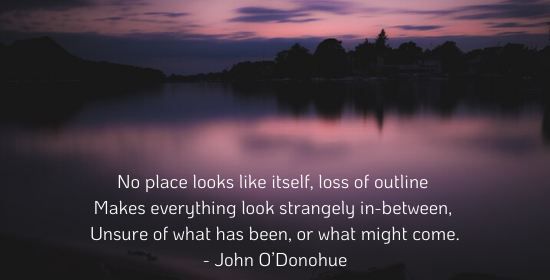 I can't let April 1 pass without greeting you! I know you're out there and sensing at a deep level that–somehow, some way–we are in the awakening of a lifetime. And that we're being asked to make history, not just watch it.

If you're not yet familiar with Holy Fools Day, it was inspired by Joseph Campbell's statement that the Holy Fool is the most dangerous person on earth and the most threatening to all hierarchical institutions. Holy Fools follow their own inner compass to do what needs to be done and do it, no matter what. Their actions make a difference in creating a more just and sustainable world in support of all of life. Since 2014, I've been hosting annual online events to shine light on the inspired action of Holy Fools in the Transformational Speaking community. (Meet them here.)
Now here we are at April 1, 2020, and I'm postponing the Holy Fools Challenge (and the grand prize that will thrill you … stay tuned.) Because the truth is, I am unable to whip up my annual Holy Fools fervor and face a deadline. My fierce and feisty oscillates to flat and feeble and–thankfully! sometimes!– back to festive. I'm deep in the Well of the JourneyWell® wheel as illustrated in my March 20 message to you about "A New Rhythm for New Times." It's time to grieve and withdraw for a bit to reflect on and integrate this non-negotiable life experience that has upended our lives.

My teacher Angeles Arrien often spoke of the danger of normalizing the abnormal, because then we abnormalize the normal. We have normalized the abnormal by putting the growth of the economy over the health of people and our planet. By ignoring the giant Ponzi scheme that takes and takes from the earth without replenishing while we witness the horror of California, the Amazon, Australia on fire and don't listen to science or connect the dots. By tolerating lies and grandstanding from those who pledged "to serve and protect." By allowing the ridicule and hatred of those who are different, or dismissing the plight of children in cages and all those who saw America as a beacon of hope. The list goes on. Now we have the great equalizer of a pandemic to get us to step back, feel our heartbreak about a world out of balance, and take stock of our values. When the dying ends, may we not forget.

Today I am eschewing deadlines and embracing lifelines. I'm honoring principle #6 of Transformational Speaking:
We must be personally sustainable to do the work of change. Practice extreme cherishment of your precious, worthy self.
As we learn to live life in a new way, let's shore up our inner resources. Here are the lifelines that are sustaining me right now: [find them at the bottom of the blog post]
And may we never forget: As Holy Fools, we were made for these times. We wanted a grand awakening of humanity and here it is! Let's not just watch history unfold, let's prepare to make history!
For now, as O'Donohue continues,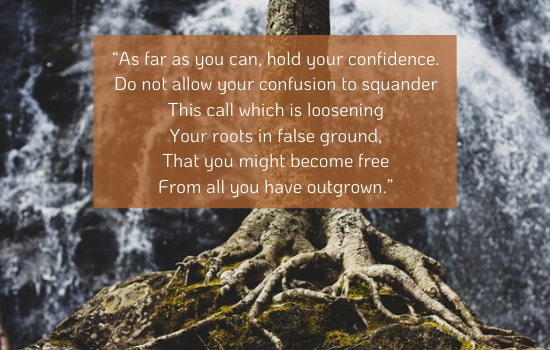 Let me know how this call is loosening your roots in false ground. How you are becoming free of all you have outgrown. And when I write again, know I will be calling for your grand Holy Fool story and asking for how you are living it right now!  
P.S. Here are some Holy Fools Day gifts to support you as you step into a larger identity of who you are and what is possible!
Original Medicine: Naming and Claiming your Original Gifts. When I last wrote, someone responded they couldn't find my offer. (That's because there wasn't one!) So use the code Holy Fools 2020 to receive half off the Original Medicine teaching, which is the foundational module of our Online Academy. If you want to "transform your relationship with your voice via the deepest stirrings of your soul" (that's how Fast Company described Transformational Speaking) – sign up for this two-month exploration and Gail will work with you on two community coaching calls to support you in naming and claiming the gift of essence you bring to the world. Transformational Speakers stand in that knowing to express their gifts in the most challenging of times.
Radical Self-Trust: How to Fully Trust Your Medicine and Use it for the Greater Good Here's my 2019 interview with Patrick O'Neill with the Transformational Speaking Online community. May it support you in meeting the Holy Fool Call to Adventure with a holy YES! as you step out of yesterday's certainty into tomorrow's possibility.
And a third, my Lifelines as I reach out to others to support me as I drop into a new rhythm.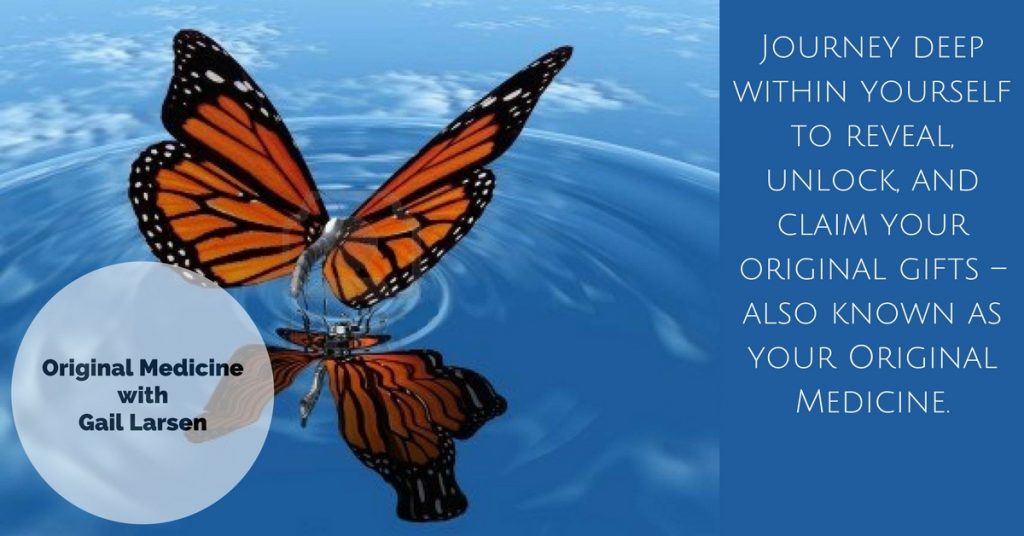 My Lifelines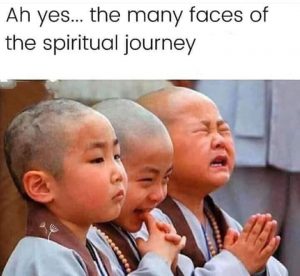 I'm finding this wild ride requires I remain aware of a wide range of needs. Here are some of the resources that are sustaining me right now –in addition to time in nature, playing with Paqo, and journaling most days.
Daily Heartmath discussion and meditation with Jeff Benton and friends
9-9:15 am (Pacific) 7days a week
https://zoom.us/j/471167430; Meeting ID: 471 167 430
The Chi Center, Online programs with Master Mingtong Gu for movement and moving energy. Register for free event on April 4!
Pam Chaloult, Intuitive coaching and wise counsel with support for embodiment.
Mama Sezz, Healthy food, delivered fresh and ready to eat. Vegan, my choice since December 2018
To enjoy the ease of your own vegan plan, check out Dr. John McDougall for medical information, eating plans,  and recipes.  This is how I started and I haven't looked back!
Jane the Virgin on Netflix – hours and hours of some of the most amusing and creative storytelling ever!
And just in!  My friend Joan Borysenko is sharing stories of human goodness that can heal and inspire and change your brain by calming down fear centers. As Joanie says, "Stories heal, and they heal the storyteller.
Join her list to receive these stories free in her Pop Up Chapel of the Heart.
I'm also amusing myself with TP photography.  Here are my first attempts:

---
Take care everyone!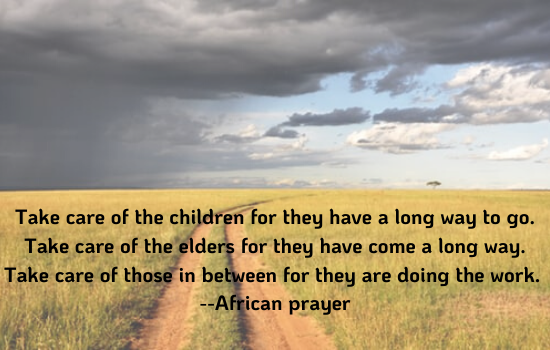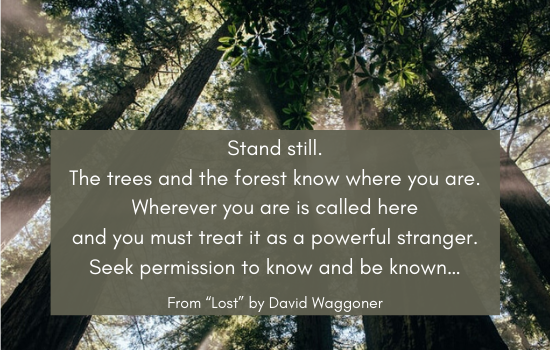 Some of you know that my customary way to just stop has been to break bones. Yes, sometimes two, or sprain both feet! All amount to a full stop. Enforced! No negotiation!
I'm not kidding. The day I was to start my Transformational Speaking book tour, I broke bones in both legs and was confined to bed for a week until the swelling subsided and I could be trussed up. (My friend Lisa called it "extreme avoidance.")
Then when I launched Transformational Speaking Online, I broke my hip in the middle of our series of 8 weekly community calls. I didn't see my home again for nearly 3 weeks.
When my dear friend Margaret died, I missed two stairs and her memorial service in San Miguel de Allende when I sprained both feet.
In the shamanic path, we know that breaking a bone is about breaking a pattern. It was clear to me in all the above cases that my pattern was to move too fast to pay attention to what my body and soul were telling me. 
In the case of my book tour, those TV appearances were cancelled.
But it was during the 2009 economic downturn, and the night before I dreamed those interviews were not going to be productive and were interchangeable with a cooking show!
In the case of my online launch, I found out my 50 participants wanted more time between calls and were relieved to have three extra weeks for the deep dive the course was inspiring!
As for Margaret's memorial, I needed space to grieve and was grateful for today's technology that allowed me to record my remembrances to bring my presence to that sacred gathering.
As I look back, I recognize that all the commitments I made – and had to break– came from love and vision. I was yet to learn the refinement of checking back in when my body and soul were suggesting I alter my plans. My commitment to my word felt like the highest value, and it did not occur to me to renegotiate my promises until my physical body left me no choice.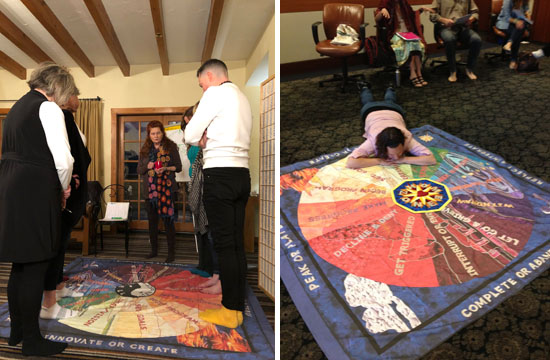 In Transformational Speaking, we stand where we are in our story on the JourneyWell™ Wheel of Growth and Change. The place of the greatest transformational potential is in the West, where we complete or abandon a plan. Sometimes it is by choice, and other times we are forcibly stopped from our pattern of moving quickly to what's next. Instead, we are pulled into the Well to "let go and grieve."

The descent into the Well begins an inner journey where we first withdraw, then self-renew, seek support, and ultimately experiment with new possibilities. From there a new dream is born that results in a new way of navigating our outer journey moving forward.
There is no time frame for this journey. It takes what it takes. It is just as uncertain as today's journey of descent with the coronavirus.
For those of you working even harder at this time on the front lines, I thank you. And for those of you wondering where your work will come from, there is a different kind of disruption. All of us are navigating a non-negotiable life experience that requires we let go of our plans.
I offer the same words given to us by David Waggoner in his poem Lost. 
Stand still. This time of initiation is a powerful stranger asking us to meet ourselves in a new way. It is far more than an economic reset; it is a values reset if we allow it to guide us to a new story for ourselves and for our world.
May we honor the inner journey and mine it for its gifts in this time of such severe outer disruption. Renegotiate commitments. Refresh your spirit. Express the Medicine you are. Be kind. Love your people. Your animals. Each other. And of course the natural world!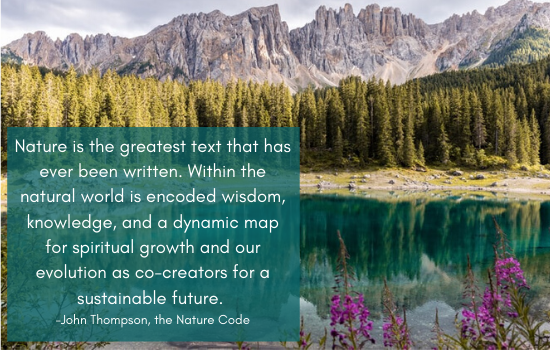 May we listen deeply for the new story that is emerging.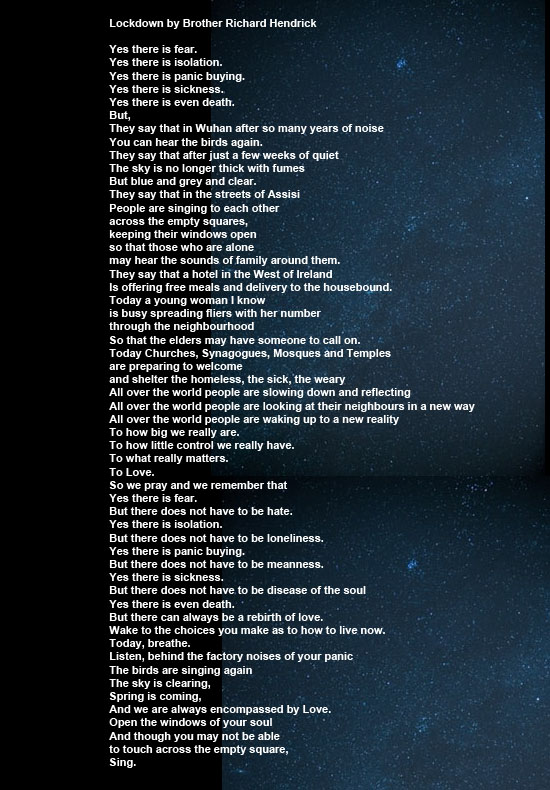 A Holy Fools Day Conversation with Patrick O'Neill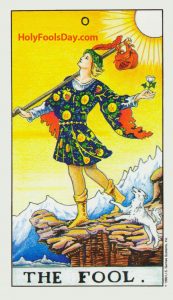 Today's my favorite holiday–partly because I got to make it up!
But even more celebratory, it's a special day that invites you to answer the Call to Adventure and take an inspired action that your soul is asking of you.  
Holy Fools express what indigenous peoples call Original Medicine. You are formed for a singular purpose for which you have gifts and talents that are nowhere else duplicated. And if you don't express those gifts, they are lost to the world for all time.
I first learned of this profound but simple teaching from cultural anthropologist Angeles Arrien, with whom I had the privilege of studying for over ten years.
Angeles left the earth plane five years ago and Patrick O'Neill, with whom she co-taught for 20 years, is continuing her great work. Both of us feel the best parts of ourselves were gained by osmosis by sitting so close to Angeles for so long.
I reached out to Patrick to mine his deep wisdom on the subject of: Continue reading →
Everywhere I'm hearing about the intensity life is serving up these days. I'm feeling it . . . are you?
The times we're in have me primed for a Soul Reset to look at life through an inspired lens. I'm much more inclined to align my inner drive with my outer doing when I'm guided by wisdom, poetry and beauty instead of, say, the daily news!.
So for a download of the good stuff, Danielle LaPorte has rallied a whole crew of her wise and witty friends to contribute to LETTERS FOR RENEWAL: 30 Days of Courage, Conviction, and Hopefulness.  It all starts September 1, and… it's FREE. Registration is open:
This is the time to shine in the light of our
medicine and speak our truth.
The elders say we are the ones we have
been waiting for.
Give yourself and the world the gift of stepping
into the full experience of your power, presence
and magnificence.


Stop giving 'til it hurts & find the exquisite balance of giving & receiving
This quote from Eleanor Roosevelt embodies the spirit of Transformational Speaking.
"The giving of love is an education in itself."
Yet while we want to express that high vibration of Love, receiving it is just as important for our own balance. So . . . what if we could also experience speaking as an act of receiving Love?
For a simple practice of how good that feels, watch this 4-minute video from Master Mingtong Gu on "How to Give and Receive Energy."
The Four Questions You Must Ask Yourself to Ignite Your Holy Fool
Many of you are asking for the four questions from our Calling All Voices event. Yes! When you take the time to thoughtfully consider your answers, you're on track to stewarding your strand in the web of life.


Continue reading →
The Honourable Zoe Tryon could have married a "lovely" Earl or Lord and lived in a castle.  But the Amazon called to her instead, inspiring her great passion to be a voice for the voiceless.  She has fallen in love with a people whose ancestral lands are being devastated by oil drilling, whose children are dying because their only source of water is poisoned.
Zoe in Ecuador -"Big Oil's Dirty Secret"
Here is some sage counsel from last year's featured Holy Fools.
Chris Jordan:  When someone says, "Be more practical," they are scared for you.  You don't really overcome fear, but you can develop a relationship with it and learn to contain it. The bigger fear for me was not living my own life.
Atina Diffley.  I knew I was the person to take on the Koch brothers to stop a pipeline on our organic farm. To keep going, I kept giving myself little dares. Taking the leap is a lot like planting a field. You keep working and never know if you'll get a crop. I call that "engaged optimism."
Karen Brody:  Every day I wake up with a huge YES! Follow your yesses. It is hard? Absolutely.  It is worth it?  Absolutely. Continue reading →
The early months of this year were full with the launch of Transformational Speaking–Online!  So my article today is about one of the challenges we address throughout the course: the fear of speaking. Be sure to continue reading as there is a short video to help you center yourself on the spot!
Sometimes we stop ourselves from speaking our truth because fear rises up and shuts us down. You've heard it said that public speaking is our number one fear. After experiencing this myself for more than half my life, I was pleased to learn that Buddhism lists five top human fears, and "fear of speaking in front of a public assembly" is only the fifth.