Rave Reviews from Change Artists from All Walks of Life
Real Speaking clients come from many walks of life yet they have one thing in common: they want their self-expression to be aligned with their values and their speaking to make a difference. While their testimonials are arranged in categories, most of them can't be contained by a single label. Likely you can't either, so keep reading and I imagine you'll find many people you know – or know of.
Don't be confused by interchangeable references to Real Speaking and Transformational Speaking. Both refer to the Transformational Speaking Immersion by its new name since 2010.
_____________________________________________
"If you know you're here to make a difference,
If there are words in you that must be spoken, there's no one more masterful than Gail Larsen.
Her keen abilities set her apart from the rest. Entrust her to refine your brilliance.
Give voice to your life.
The world awaits."
ELIZABETH LINDSEY
National Geographic Society Fellow, Anthropologist, and Award-Winning Filmmaker
_____________________________________________
From Danielle LaPorte
"Transformational Speaking is only half right. It is really Transformational Living. I am leaving cleansed and clarified. Gail is the real thing, a master at seeing the truth and a deep believer in the beauty of the human process. I want to sing from the mount that everyone should come and be in this experience. It will make you a more powerful speaker and a more powerful lover of who you really are."
DANIELLE LAPORTE
www.WhiteHotTruth.com
Vancouver, BC
_____________________________________________
"Gail Larsen is the go-to goddess for anyone wishing to take their speaking to a deeper level. She approaches public speaking from the core outward and connected me with the passionate voice that lies behind my deeper life purpose. I find myself returning again and again to the lessons of Real Speaking."
CHRIS JORDAN
Photographic Artist, Seattle, WA
_____________________________________________
Anyone who attends this exceptional program and experiences Gail Larsen's stewardship will definitely increase their communication skills and trust their own authentic expression.
ANGELES ARRIEN
Cultural Anthropologist
Author, The Four Fold Way
_____________________________________________
"Whether the subject is Bookkeeping, Paleontology, God or Personal Transformation, there is nothing more moving, inspiring or effective than speaking from your heart. Gail Larsen will take you there."
LINDSEY WAGNER – Actress, Producer, Author
_____________________________________________
Social Purpose/Social Profit Leaders

"Gail Larsen has a rare gift for teaching and inspiring people. I have worked with her personally in Real Speaking and she has offered programs at our conferences for three years in succession. I am constantly impressed by the ways she helps people get over their fear of public speaking and shows them how to speak from their hearts. I recommend her without hesitation if you are seeking a deep learning experience and a hands-on way to increase your effectiveness as a leader and a speaker."
DEBORAH NELSON
Former Executive Director, Social Venture Network, San Francisco, CA
Read more testimonials from Social Purpose/Social Profit Leaders
_____________________________________________
Coaches
"Real Speaking is just that: a real and authentic process that allows one to get to the heart of the matter. Sounds simple enough, but don't be misled, our hearts are so protected and covered over with hurts and pains they are often hard to access. Gail has a safe and unique way of supporting each participant to go deep and open the window to let out and let in the yearnings of the heart's desire. What a gift!"
CHUCK ROPPEL
Master Certified and Professional Life Coach, San Francisco
Read more testimonials from Coaches
_____________________________________________
Entrepreneurs, Business Leaders, Consultants
"Real Speaking is the most powerful speaking course I have ever taken because it is not about gimmicks; it is about being authentic and establishing a genuine connection with your audience. Gail operates with a steel fist in a velvet glove. Sign up. It will be the best money you ever spend on any kind of personal or professional development workshop."
BRIAN NATTRASS
Sustainability Partners, British Columbia
Author and Strategic Advisor to several Fortune 500 Companies
_____________________________________________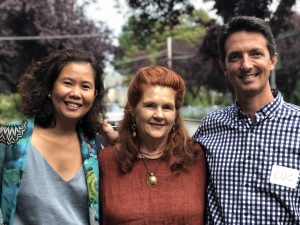 "To celebrate my 45th birthday, my wife Rachell gave me Gail's retreat as a gift, and joined me in this 2-day journey.  It was life-changing  for us both!
At a personal level, by seeing each other's souls and understanding each other's purpose in life more clearly, we have gained confidence in each other, respect for each other's uniqueness, and faith in our couple journey.
In my business, the medicine approach has been an extraordinary booster to manifest a global leadership platform. I am also amazed by how partnering with clients and other professionals has become easier, more natural and fulfilling, for them and for me. I have learned to operate from my HomeZone™.  Thank you, thank you, thank you!"
LUC SALAO ROULLETT
Y-Motions Interational
Game-Changers Power for Good
Read more testimonials from Entrepreneurs, Business Leaders, Consultants
_____________________________________________
Health Care & Healing Professionals
I went to Transformational Speaking feeling there was a deeper, more important voice within me that had not yet found expression. I now know what I have to say and how to say it! A vital piece of my jigsaw puzzle was found that has helped all aspects of my life. Gail is master at her work.
ANDREW HORWOOD, MD
Hillier, SA, Australia
Read more testimonials from Health Care & Healing Professionals
_____________________________________________
Professional Speakers and Trainers
"After years as a professional speaker, Real Speaking was the path to move me to a whole new level of confidence and ability. Gail showed me just how much more powerful it is to take the audience on a journey with me rather than just tell them about it. The response to my speaking has changed dramatically as I have applied the lessons of Real Speaking."
MAUREEN MANLEY, MA. Professional Speaker
Founder, Spirit In Motion
U.S. Cycling Team National Champion and MS Spokesperson
Read more testimonials from Professional Speakers and Trainers
_____________________________________________
Authors & Publishers
"Run – don't walk, don't wait! If you can't afford it yet, start saving your pennies because this is transformational branding, speaking, soul work, get out your mojo work! You are going to get everything that you need and it comes together in a magical, intensely multi-layered package. Gail Larsen and Transformational Speaking have my highest recommendation."
JENNIFER LOUDEN, "The Comfort Queen"
Author, The Women's Comfort Book and igniter of The Savor and Serve Experiment
Read more testimonials from Authors & Publishers
_____________________________________________
Educators
"I came to Transformational Speaking hoping to polish my skills and be better at 'transforming' and 'inspiring' my audiences. Much to my surprise, I was the one transformed, more connected to my own story, more clear on the unique perspective only I can bring to my audiences. This lets me tell a much richer, more compelling story from a place of personal strength and clarity…..Transformation is possible!"
JIM SIBLEY
Director-Centre for Instructional Support
University of British Columbia, Vancouver, BC Canada