Transformational Speaking
If You Want to Change the World, Tell a Better Story
From Random House & Brilliance Audio
From Fast Company Book Review:  "Do you have a message deep in your soul that you need help getting out into the world? Do you have a calling, a vision that you want to articulate with more power? Do you want to learn how to express your inner intents in ways that effectively communicate while at the same time motivating people to act? Then, I have the book for you…"
From Esther Luttrell
"I've dog-eared your book Transformational Speaking so much that I'm tempted to walk it before going to bed, and give it its own water bowl. I want so badly to plagiarize from it, but I know that's naughty so I restrain myself. It's just that when something is said in such a way that it can never be said any better, what am I to do?"
You can change the world—one audience at a time!
Today's challenging times call for passionate visionaries who are authentic and articulate communicators. Speaking coach and consultant Gail Larsen presents a proven program that liberates the "speaker within" and transforms even the reluctant orator into an agent of change.
While most books on public speaking focus on polishing your presentation and overcoming fear, Larsen's holistic blend of spirit and logic goes far beyond the standard format making TRANSFORMATIONAL SPEAKING a must-read for even the most seasoned of speechmakers. With her uniquely inspirational approach, Larsen reaches out to those who want to make a genuine difference in our world by changing minds through touching hearts.
TRANSFORMATIONAL SPEAKING offers insightful advice on everything from defining your message and refining your delivery, to managing the dynamics of a room, handling logistics like a pro, and building a connection with an audience of any size. Larsen has helped business executives and entrepreneurs, community and social change leaders, and healers and life coaches become active movers and shakers through the power of effective communication.
Buy the book or unabridged audio

Acclaim
"Although at first glance Gail Larsen's book is about the art of public speaking, it is actually a profound book about the art of living authentically. Transformational Speaking should be required reading in every high school and every community college as part of every curriculum because it speaks to the heart of how to show up in the world."
—JOSE LUIS STEPHENS, Ph.D., president, The Power Path, Inc.
Author, The Power Path and Transforming Your Dragons
_____________________________________________
"We all want to be part of a bigger story, something beyond ourselves that allows us to serve the common good and find personal fulfillment. Gail Larsen uniquely helps you down the path of finding that story in yourself and communicating it to others. I can think of no greater gift than what Gail offers each and every reader."
—Dr. Mark Albion, co-founder of Net Impact
Author of New York Times Best Seller, Making a Life, Making a Living and True to Yourself
_____________________________________________
"Gail Larsen's wise book will help anyone tap into the remarkable power of story, transforming not just the listener but the storyteller as well. In our changing world, with unprecedented possibilities for communicating, these lessons are vital."
—LARRY DOSEY, MD
Author of The Extraordinary Power of Ordinary Things
_____________________________________________
"Transformational Speaking presents a spiritual path in a how-to book – what a rare find! It's beautifully written, passionate, and totally authentic. Gail is someone you WANT to learn from, and has so much to share. Her teaching is filled with depth and presence, and makes you realize that a podium is a meditation cushion in disguise. And vice versa, too. Become a better speaker, Gail's way, and you're bound to find more than a little enlightenment along the way."
—RAPHAEL CUSHNIR, author of The One Thing Holding You Back:
Unleashing the Power of Emotional Connection
_____________________________________________
"In this powerful and insightful book, Gail touches the Source, both of our own humanity and of our capacity to speak our truths in ways which touch the humanity and the hearts of others. By embracing the guidance and wisdom on these pages, transformational speakers have the opportunity to ignite transformational conversations—those that can help shape life-affirming futures in our organizations, our communities, and on this fragile and beautiful planet. BRAVO!"
—JUANITA BROWN, PhD, co-founder, The World Café
_____________________________________________
"Gail's method is a remarkably powerful way to build leadership skills that effectively integrates inner healing and transformation with practical skill building. I cannot recommend her book or her work more highly, as they have been truly transformative for me and improved my speaking skills immeasurably."
—NINA SIMONS, co-executive director, Bioneers
_____________________________________________
"Brilliant! Our stories can make a real and human contact like nothing else, and the time to tell our stories is now. Gail's message, backed by decades of experience and a sound method, is clear: Be the one to set in motion the world-transforming story that your life, and your life alone, has prepared you to tell."
—SANKARA SARANAM, author of God without Religion
_____________________________________________
"Gail Larsen is a master teacher who is catalyzing the emergence of a sustainable world through Real Speaking. Now her book brings this powerful approach alive on the page. Anyone who wants to speak out and make a difference in the world will benefit from reading Transformational Speaking."
—PEGGY TAYLOR and RICK INGRASCI, MD, co-authors
Chop Wood, Carry Water: A Guide to Finding Spiritual Fulfillment in Everyday Life
_____________________________________________
"Gail Larsen is an exceptional storyteller, practitioner, and entrepreneur who embodies the title of her new book. She is changing the world with her unique gifts and talents.  Some books offer lessons and others inspiration, but few accomplish both while providing hands-on practical tools and advice. Keep Transformational Speaking handy—you're going to use it for years to come."
—PAM CHALCOUT, chief operating officer, Renewal Partners/Endswell Foundation,
and former co-executive director, Social Venture Network
_____________________________________________
"Gail's thoughtful and practical application of indigenous wisdom to those who address today's contemporary audiences allows them to create greater impact and meaning by accessing their authentic power. Using the time-tested effect of story, those who apply the principles of Transformational Speaking will penetrate differences and resistance and be heard. This wonderful book provides a lens into speaking that is not taught elsewhere. It will transform your experience as a public speaker."
—RICHARD C. WHITELEY, co-founder, The Forum Corporation
Author of The Customer Driven Company and Customer Centered Growth
_____________________________________________
"While I had been a speaker for years before taking Real Speaking, I had never heard:  'You are a wonderful and compelling speaker. I love hearing you speak.' Working with Gail transformed my whole experience of speaking from enduring it to really enjoying it. Now, all that I learned in Gail's workshop is available to you in this excellent book. Transformational Speaking is must reading for anyone who does any speaking."
—MARGARET PAUL, PhD, Inner Bonding
Co-author of Do I Have to Give Up Me to Be Loved By You?
_____________________________________________
"Whether the subject is bookkeeping, paleontology, God, or personal transformation, there is nothing more moving, inspiring or effective than speaking from your heart. Gail Larsen will take you there."
—LINDSAY WAGNER, Actress, Producer, Humanitarian
_____________________________________________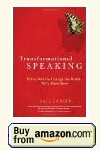 One Response to Transformational Speaking