A Holy Fools Day Conversation with Patrick O'Neill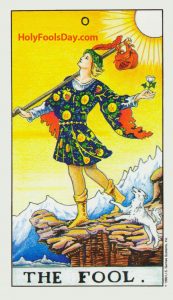 Today's my favorite holiday–partly because I got to make it up!
But even more celebratory, it's a special day that invites you to answer the Call to Adventure and take an inspired action that your soul is asking of you.  
Holy Fools express what indigenous peoples call Original Medicine. You are formed for a singular purpose for which you have gifts and talents that are nowhere else duplicated. And if you don't express those gifts, they are lost to the world for all time.
I first learned of this profound but simple teaching from cultural anthropologist Angeles Arrien, with whom I had the privilege of studying for over ten years.
Angeles left the earth plane five years ago and Patrick O'Neill, with whom she co-taught for 20 years, is continuing her great work. Both of us feel the best parts of ourselves were gained by osmosis by sitting so close to Angeles for so long.
I reached out to Patrick to mine his deep wisdom on the subject of: Continue reading →
Here is some sage counsel from last year's featured Holy Fools.
Chris Jordan:  When someone says, "Be more practical," they are scared for you.  You don't really overcome fear, but you can develop a relationship with it and learn to contain it. The bigger fear for me was not living my own life.
Atina Diffley.  I knew I was the person to take on the Koch brothers to stop a pipeline on our organic farm. To keep going, I kept giving myself little dares. Taking the leap is a lot like planting a field. You keep working and never know if you'll get a crop. I call that "engaged optimism."
Karen Brody:  Every day I wake up with a huge YES! Follow your yesses. It is hard? Absolutely.  It is worth it?  Absolutely. Continue reading →
April 1 is the day to find your voice, speak your truth, and shake things up.  Forget the pranks and silly antics of April Fool's Day. Become a Holy Fool!
Each year I remind you that this is your day to speak out.  Here is last year's post to inspire ideas for the outer expression of your inner Holy Fool.
Comparative mythologist Joseph Campbell talked about the archetype of the Holy Fool. The Fool is the most dangerous person on earth, Campbell explained, the most threatening to all hierarchical institutions.  He has no concern for naysayers, and no one has power over him (or her). She is not limited, not stoppable, nor controllable. She knows what she has to do and is doing it, no matter what. Continue reading →