Wisdom from Holy Fools
Here is some sage counsel from last year's featured Holy Fools.
Chris Jordan:  When someone says, "Be more practical," they are scared for you.  You don't really overcome fear, but you can develop a relationship with it and learn to contain it. The bigger fear for me was not living my own life.
Atina Diffley.  I knew I was the person to take on the Koch brothers to stop a pipeline on our organic farm. To keep going, I kept giving myself little dares. Taking the leap is a lot like planting a field. You keep working and never know if you'll get a crop. I call that "engaged optimism."
Karen Brody:  Every day I wake up with a huge YES! Follow your yesses. It is hard? Absolutely.  It is worth it?  Absolutely.
Sam Ko, MD.  I get a physical response in my body when my intuition speaks. In the fast pace of the ER, I have to make space for peace and solitude. My mind and heart need to be quiet to really tune in and listen.
Charles McAlpine:  When you choose to follow the urge of your Holy Fool, you initiate on an adventure. Magic and synchronicity point the way.  You create your own rulebook.  I could never go back because I'm having so much fun!
Want to see them in action?  Here's the link to last year's Holy Fool's Day event!
You can sign up for this year's event here.
_________________________________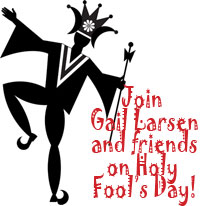 What do you know about being a Holy Fool?  What spark of madness inspires you?  Please tell us on the blog, and let's keep this movement going!  We can send you graphics for your Facebook posts – just ask!
Oh, go ahead and tweet!  Tweet: Get your spark of madness on! Join #Gail Larsen for her #Holy Fools Day Extravaganza on April !! https://ctt.ec/u81SP+
With delight in your magic!
Gail