A Holy Fools Day Conversation with Patrick O'Neill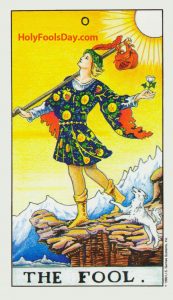 Today's my favorite holiday–partly because I got to make it up!
But even more celebratory, it's a special day that invites you to answer the Call to Adventure and take an inspired action that your soul is asking of you.  
Holy Fools express what indigenous peoples call Original Medicine. You are formed for a singular purpose for which you have gifts and talents that are nowhere else duplicated. And if you don't express those gifts, they are lost to the world for all time.
I first learned of this profound but simple teaching from cultural anthropologist Angeles Arrien, with whom I had the privilege of studying for over ten years.
Angeles left the earth plane five years ago and Patrick O'Neill, with whom she co-taught for 20 years, is continuing her great work. Both of us feel the best parts of ourselves were gained by osmosis by sitting so close to Angeles for so long.
I reached out to Patrick to mine his deep wisdom on the subject of: Continue reading →
Everywhere I'm hearing about the intensity life is serving up these days. I'm feeling it . . . are you?
The times we're in have me primed for a Soul Reset to look at life through an inspired lens. I'm much more inclined to align my inner drive with my outer doing when I'm guided by wisdom, poetry and beauty instead of, say, the daily news!.
So for a download of the good stuff, Danielle LaPorte has rallied a whole crew of her wise and witty friends to contribute to LETTERS FOR RENEWAL: 30 Days of Courage, Conviction, and Hopefulness.  It all starts September 1, and… it's FREE. Registration is open:
This is the time to shine in the light of our
medicine and speak our truth.
The elders say we are the ones we have
been waiting for.
Give yourself and the world the gift of stepping
into the full experience of your power, presence
and magnificence.


Stop giving 'til it hurts & find the exquisite balance of giving & receiving
This quote from Eleanor Roosevelt embodies the spirit of Transformational Speaking.
"The giving of love is an education in itself."
Yet while we want to express that high vibration of Love, receiving it is just as important for our own balance. So . . . what if we could also experience speaking as an act of receiving Love?
For a simple practice of how good that feels, watch this 4-minute video from Master Mingtong Gu on "How to Give and Receive Energy."
The Four Questions You Must Ask Yourself to Ignite Your Holy Fool
Many of you are asking for the four questions from our Calling All Voices event. Yes! When you take the time to thoughtfully consider your answers, you're on track to stewarding your strand in the web of life.


Continue reading →
The Honourable Zoe Tryon could have married a "lovely" Earl or Lord and lived in a castle.  But the Amazon called to her instead, inspiring her great passion to be a voice for the voiceless.  She has fallen in love with a people whose ancestral lands are being devastated by oil drilling, whose children are dying because their only source of water is poisoned.
Zoe in Ecuador -"Big Oil's Dirty Secret"
Here is some sage counsel from last year's featured Holy Fools.
Chris Jordan:  When someone says, "Be more practical," they are scared for you.  You don't really overcome fear, but you can develop a relationship with it and learn to contain it. The bigger fear for me was not living my own life.
Atina Diffley.  I knew I was the person to take on the Koch brothers to stop a pipeline on our organic farm. To keep going, I kept giving myself little dares. Taking the leap is a lot like planting a field. You keep working and never know if you'll get a crop. I call that "engaged optimism."
Karen Brody:  Every day I wake up with a huge YES! Follow your yesses. It is hard? Absolutely.  It is worth it?  Absolutely. Continue reading →
The early months of this year were full with the launch of Transformational Speaking–Online!  So my article today is about one of the challenges we address throughout the course: the fear of speaking. Be sure to continue reading as there is a short video to help you center yourself on the spot!
Sometimes we stop ourselves from speaking our truth because fear rises up and shuts us down. You've heard it said that public speaking is our number one fear. After experiencing this myself for more than half my life, I was pleased to learn that Buddhism lists five top human fears, and "fear of speaking in front of a public assembly" is only the fifth.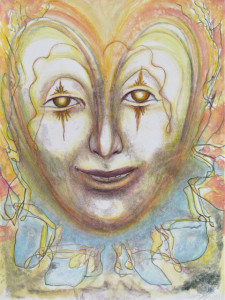 As speakers and leaders, loving people into their magnificence is one of the biggest gifts we can bring to those we serve. So when I work with a client on a new talk, I send them off with the words of Eleanor Roosevelt:  "The giving of love is an education in itself."
When taking the stage, it's so easy to be absorbed in what we're about to say, or in centering ourselves to alleviate fear, we forget to focus on those who will be listening to us. Continue reading →
"Wherever you are is called here, and you must treat it as a powerful stranger . . ."
The above line, from the poem Lost by David Waggoner, touches me each time I hear it. So often where we actually are in our lives represents the story we don't want others to know. It may reveal that we're not on top of our game where our culture would have us believe we are supposed to be. It may not show us in the best light when we want to impress those around us. It may expose a broken heart to even more vulnerability. So we stuff the truth and pretend it isn't real or important, forgetting we're all members of the Scar Clan. Continue reading →