Everywhere I'm hearing about the intensity life is serving up these days. I'm feeling it . . . are you?
The times we're in have me primed for a Soul Reset to look at life through an inspired lens. I'm much more inclined to align my inner drive with my outer doing when I'm guided by wisdom, poetry and beauty instead of, say, the daily news!.
So for a download of the good stuff, Danielle LaPorte has rallied a whole crew of her wise and witty friends to contribute to LETTERS FOR RENEWAL: 30 Days of Courage, Conviction, and Hopefulness.  It all starts September 1, and… it's FREE. Registration is open:
____________________________________________
When it's time for renewal, the quiet voice of your Soul needs big space. . . first, to whisper what's needed to get real and get rest, and next, to shout to your Ego about what needs to change!
Ego gets a bad rap. In spiritual circles, we're told it needs to be the servant. I disagree. I believe it needs to be in conscious partnership with your Soul to reveal its potent gifts.
The Soul needs Ego, or physical form, for expression. Yet when Ego leads, your true self gets left behind and there is nothing authentic to connect with. When Soul leads, you may find that people don't "get" you because your true expression is not yet fully embodied.
We need both Soul and Ego in full partnership – that's what my friend and Transformational Speaker Chuck Roppel calls the dance!  When Soul and Ego are in balanced partnership, you are able to connect in a genuine and meaningful way with yourself, with others, and with what Life is asking of you.
To bring them into harmony, I invite you to enter into a dialogue between these two essential aspects of yourself in support of a fulfilling and sustainable experience of living.
A good question for Ego is:
"What am I failing to do because I am afraid people will judge me? Would you be willing to support me in doing something where the outcome may be uncertain but where I can grow my presence in the world?"
A good question for Soul is similar:
"What true expression am I not putting out into the world? What stops me?"
When I teach Transformational Speaking™, I applaud the Comfort Zone that most people seek. The comfort zone is essential because it reassures our Egos that we have our credentials and professional persona in place and are safe. But we don't want to stop there! What makes us memorable is the HomeZone®, that place of inner alignment and trust where we share the truth and emotions of the stories that matter. In the HomeZone, we support not only our Soul's expression; we also make a juicy and cherished human connection with our listeners. We need both Soul and Ego in full partnership – that's the dance! Ego thinks; Soul feels. Whether it be speaking, writing, or business, your art is flat if it comes only from Ego. When your Soul is speaking, your expression comes alive and Ego supports you by giving it form.
Here's how I see the contrasts. Read across the two columns and circle from 1-10 how you most typically function.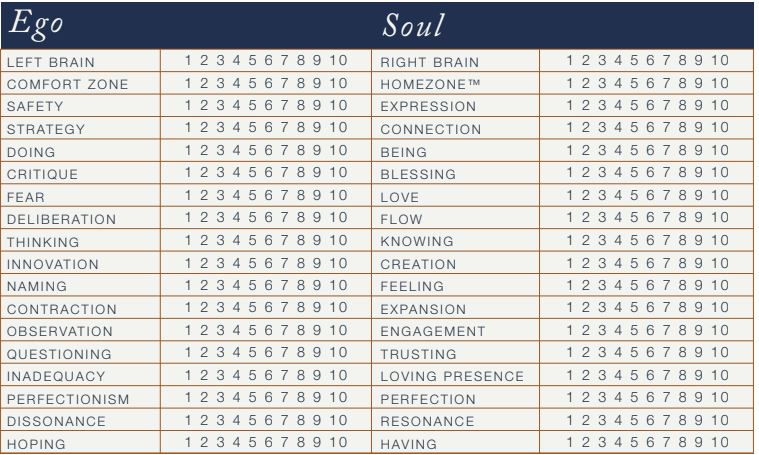 Would you like to align them in true partnership?
Ways to Strengthen Your Ego

Ways to Strengthen Your Soul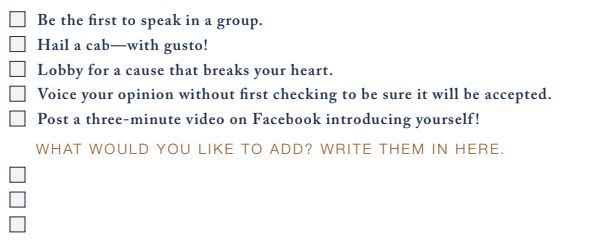 As you enter into this time of renewal, invite both your Soul and your Ego to become trustworthy partners to bring your full self forward, fully integrated and alive. Your Soul will find fuller expression, and your Ego will find itself in support of a higher purpose.
Enjoy the dance!
This exploration of Soul and Ego is one of many exercises included in my course,  
Transformational Speaking Online
.  You have within you a potent voice for change – and a message and a story that you and only you can communicate. In this robust 8-module Online Academy, I'll help you connect with your deepest calling, the message you were born to share, and support you in speaking from that place of true alignment. I call it the HomeZone™- because it is where you come home to your true self. 
Join us!
This is the time to shine in the light of our
medicine and speak our truth.
The elders say we are the ones we have
been waiting for.
Give yourself and the world the gift of stepping
into the full experience of your power, presence
and magnificence.


Indigenous cultures call this gift our Original Medicine.
It is a teaching that has two distinct parts.
* You come to this earth with gifts and talents nowhere else duplicated
* If you don't express these gifts, they are lost to the world for all time
In teaching this perennial wisdom, I've discovered a third truth:
Original Medicine fulfills our deep longing to know and live our purpose.
Without its expression, we never feel quite whole.

Discover your personal Original Medicine in the first module of Transformational Speaking–Online. It is the foundation for all you do in service to the world.
Stop giving 'til it hurts & find the exquisite balance of giving & receiving
This quote from Eleanor Roosevelt embodies the spirit of Transformational Speaking.
"The giving of love is an education in itself."
Yet while we want to express that high vibration of Love, receiving it is just as important for our own balance. So . . . what if we could also experience speaking as an act of receiving Love?
For a simple practice of how good that feels, watch this 4-minute video from Master Mingtong Gu on "How to Give and Receive Energy."

And then read on for my story of why I am joining him
on June 20 for Qigong for a Happy Heart!
The Four Questions You Must Ask Yourself to Ignite Your Holy Fool
Many of you are asking for the four questions from our Calling All Voices event. Yes! When you take the time to thoughtfully consider your answers, you're on track to stewarding your strand in the web of life.


Continue reading →
The Honourable Zoe Tryon could have married a "lovely" Earl or Lord and lived in a castle.  But the Amazon called to her instead, inspiring her great passion to be a voice for the voiceless.  She has fallen in love with a people whose ancestral lands are being devastated by oil drilling, whose children are dying because their only source of water is poisoned.
Zoe in Ecuador -"Big Oil's Dirty Secret"
Here is some sage counsel from last year's featured Holy Fools.
Chris Jordan:  When someone says, "Be more practical," they are scared for you.  You don't really overcome fear, but you can develop a relationship with it and learn to contain it. The bigger fear for me was not living my own life.
Atina Diffley.  I knew I was the person to take on the Koch brothers to stop a pipeline on our organic farm. To keep going, I kept giving myself little dares. Taking the leap is a lot like planting a field. You keep working and never know if you'll get a crop. I call that "engaged optimism."
Karen Brody:  Every day I wake up with a huge YES! Follow your yesses. It is hard? Absolutely.  It is worth it?  Absolutely. Continue reading →
The early months of this year were full with the launch of Transformational Speaking–Online!  So my article today is about one of the challenges we address throughout the course: the fear of speaking. Be sure to continue reading as there is a short video to help you center yourself on the spot!
Sometimes we stop ourselves from speaking our truth because fear rises up and shuts us down. You've heard it said that public speaking is our number one fear. After experiencing this myself for more than half my life, I was pleased to learn that Buddhism lists five top human fears, and "fear of speaking in front of a public assembly" is only the fifth.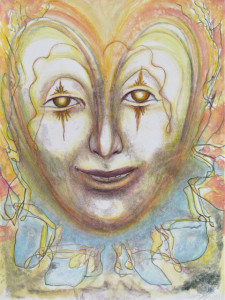 As speakers and leaders, loving people into their magnificence is one of the biggest gifts we can bring to those we serve. So when I work with a client on a new talk, I send them off with the words of Eleanor Roosevelt:  "The giving of love is an education in itself."
When taking the stage, it's so easy to be absorbed in what we're about to say, or in centering ourselves to alleviate fear, we forget to focus on those who will be listening to us. Continue reading →
"Wherever you are is called here, and you must treat it as a powerful stranger . . ."
The above line, from the poem Lost by David Waggoner, touches me each time I hear it. So often where we actually are in our lives represents the story we don't want others to know. It may reveal that we're not on top of our game where our culture would have us believe we are supposed to be. It may not show us in the best light when we want to impress those around us. It may expose a broken heart to even more vulnerability. So we stuff the truth and pretend it isn't real or important, forgetting we're all members of the Scar Clan. Continue reading →
April 1 is the day to find your voice, speak your truth, and shake things up.  Forget the pranks and silly antics of April Fool's Day. Become a Holy Fool!
Each year I remind you that this is your day to speak out.  Here is last year's post to inspire ideas for the outer expression of your inner Holy Fool.
Comparative mythologist Joseph Campbell talked about the archetype of the Holy Fool. The Fool is the most dangerous person on earth, Campbell explained, the most threatening to all hierarchical institutions.  He has no concern for naysayers, and no one has power over him (or her). She is not limited, not stoppable, nor controllable. She knows what she has to do and is doing it, no matter what. Continue reading →