San Miguel de Allende, Mexico, Travel & Logistics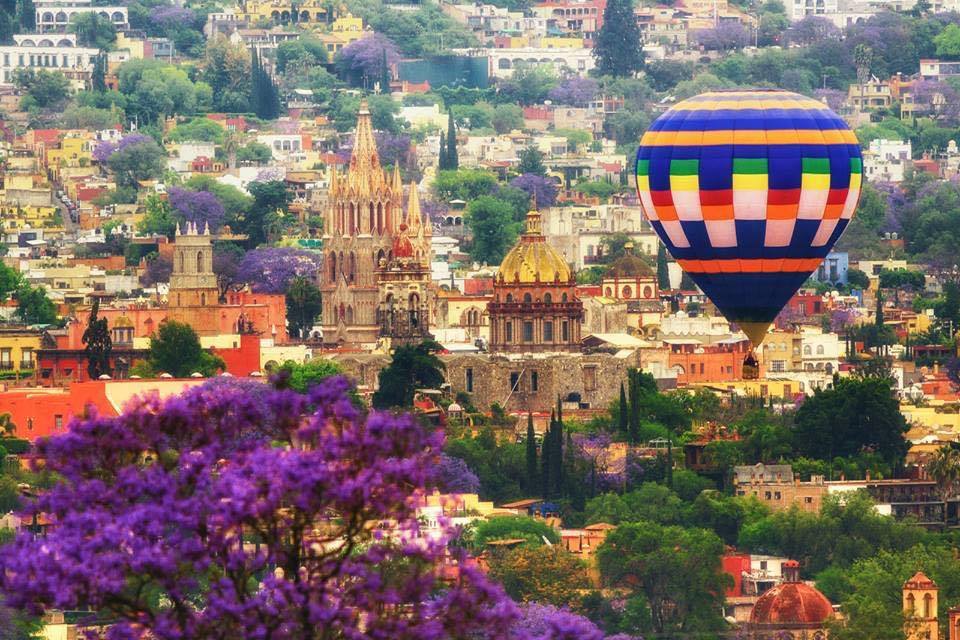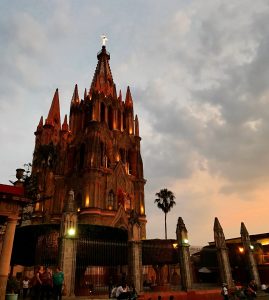 Beginning in 2019, the Transformational Speaking Immersion will be offered from time to time in Gail's "Happy Place":  San Miguel de Allende,  a colonial-era city in Mexico's central highlands at 6200 feet above sea level. San Miguel has been named the number one city in Mexico, Central & South America and number three in the World´s Best Cities in the Travel + Leisure World's Best Awards 2016. In 2008, the historic center of San Miguel de Allende won UNESCO World Heritage Site designation. And, in 2013, Condé Nast Traveler magazine named San Miguel de Allende the best city in the world.
San Miguel is known for its Spanish architecture, colorful streets and friendly people, thriving arts scene and cultural festivals. In the city's historic, cobblestoned center lies the neo-Gothic church Parroquia de San Miguel Arcángel, whose dramatic pink towers rise above the main plaza, El Jardín. Learn more in this Travel Guide.
Travel Planning
Accommodations.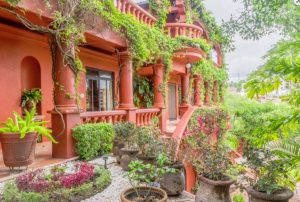 We'll be staying at Hotel Casa Puesta Del Sol, in the hills overlooking the city of San Miguel, where the sunsets are a reminder of the beautiful poem "The Setting Sun Rejoices."  This luxury boutique hotel has seven bedrooms and baths and is reserved for our exclusive use for the five nights of our program.  Our work will take place here in an expansive living space and your room and breakfast and lunch each day are included in your $7500 tuition.
Getting to San Miguel by Air.  
There are two airports convenient to San Miguel.  The closest is Queretaro (QRO), about a 75-minute drive away, and the other is Leon (BJX), just a bit further.  American and United Airlines serve both airports.  While flights to Mexico City may be less expensive, it is about a three-hour drive.
Make your airline reservation to arrive the day before the program begins and leave anytime on the day following your program.  That extra night to integrate the work makes all the difference!
You'll likely want to extend your visit to enjoy this inviting city, and we can recommend accommodations right in town where you can enjoy many of its pleasures on foot.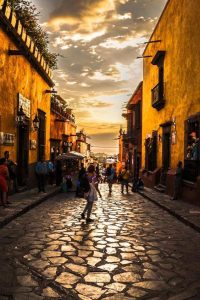 Airport Shuttles to San Miguel. 
Bajio Go is an excellent shuttle service .  The shuttle driver will meet your flight and stand outside customs with a sign with your name and drive you to your door by prior reservation.  Shuttle prices are usually $25-30 one way from Queretaro or Leon
I have a wonderful private driver, Pascual Sanchez [tenoriotours@yahoo.com.mx]. From Queretaro or Leon the cost is $65. $190 USD from Mexico City for up to 3 people (drive time is 3 1/2 hours).
Program Schedule.  The program begins at 9:00 am on the opening day and completes by 4:00 p.m. on the fourth day.  We typically begin classes on Thursday and end on Sunday.  We'll have breakfast and a catered lunch on site and go out for dinners. Learn about the food scene.
Day 1:  9 am –  6 pm, followed by dinner in Centro
Day 2:  8:45 am to 7:00 pm followed by optional group dinner
Day 3:  8:45 am – 5:00 pm (in the evening you are on your own to develop a new presentation;  we'll have menus from local restaurants that deliver if you want to stay in for dinner
Day 4: 8:30 am-4:00 pm ending with a closing celebration off-site
It is a v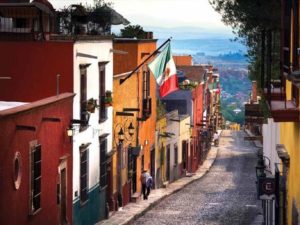 ery full schedule which doesn't allow for time with a friend, partner, or spouse. Come early or stay over to play! A word to the wise . . . people get here and wonder why they didn't add on a few days, and many have extended their visits once they are here.